Medical Vibroacoustic Device Vitafon-5 Standard Equipment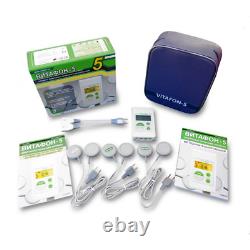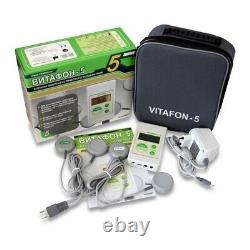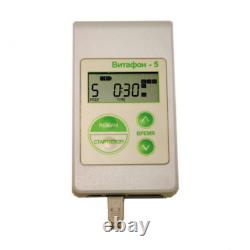 Works in USA/CANADA with 220V to 110V converter. 220/110 voltage converter NOT included. Comes with Russian Language Manual. Vibroacoustic device " VITAFON-5 " is designed to compensate for the deficiency of mechanical microvibrations in the tissues and organs of the body by vibrating at a depth of up to 10 cm. The device " Vitafon-5 " is used for the prevention and treatment of diseases associated with impaired capillary blood flow and lymph flow, for the treatment of functional disorders associated with impaired innervation of organs and tissues, to increase immunity, to consolidate the therapeutic effect after recovery and for preventive purposes. The device " Vitafon-5 " improves the functions of organs and has anti-inflammatory, anti-edematous, analgesic, trophic (increasing metabolism) and regenerative effects. The device is safe and there is no risk of harm to health. Vibroacoustic device " Vitafon-5 " in the standard configuration allows you to connect 4 vibraphones at the same time and act on 2 areas at once.
This allows you to significantly reduce the time of procedures for individual diseases. It has 9 exposure modes, which allow the body to more smoothly adapt to vibroacoustic procedures. Thanks to the built-in battery, procedures can be carried out anywhere far from the mains (for example, moving around the house, in the garden, in the car). Using the ORPO mattress (with 20 vibraphones) it is possible to act on key areas without having to rearrange the vibraphones. Vibraphones may require special cuffs to secure them.
Is to be used in hospitals, other medical institutions and sanatoriums. It can be also effectively applied by a patient at home, after consultation with a doctor and under his supervision. Net, not more than 2 kg.
Overall dimensions, not more than 120? COMPLEXITY OF KIT Apparatus " Vitafon-5 ". Russian Passport and instruction manual - 1pc. Device control unit - 1 pc. Double vibraphone type B1 with protective case - 1 pc.
Double vibraphone type B2 with protective case - 2 pcs. AC Power Supply - 1 pc. Splitter (for vibraphones) - 1 pc. Consumer packaging - 1 pc.
The power supply unit of the mains-operated device has life-threatening alternating voltage. When using the device follow the general safety rules when using electrical appliances. DO NOT wipe the dust on the case with a damp cloth when networked device. Keep moisture out of the case device.
DO NOT use the device in bathtubs or showers rooms, as well as while the car is moving when powered by. DO NOT disassemble, repair or modify the device independently or entrust it to persons who do not have a special. A NOTE for US customers: you will need to convert US voltage from 110 V AC to 220-240 V AC.
Using an adaptor will not affect the device functionality. It is possible that it will work on 110Volt in US, ne. (inspection may take a time). We will make sure that everything is the way it should be with the process. We will make sure that you will have a great experience shopping with us!

---