Infrared Lamp Used In Radiant Heating Other Medical & Lab Equipment AjantaExport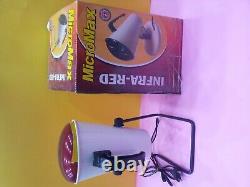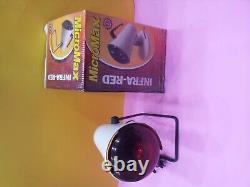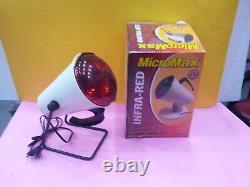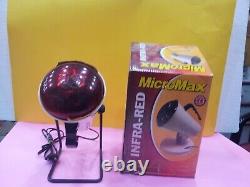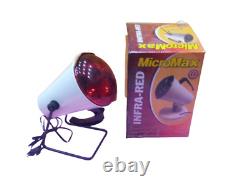 Infrared lamps are commonly used in radiant heating for industrial processes and building heating. Infrared LEDs are used for communication over optical fibers and in remote control devices. Infrared lamps are also used for some night vision devices where visible light would be objectionable. In order to cater to the diverse demands of clients, we are able to offer a comprehensive range of Infrared Lamp. The offered range of infrared lamps is designed & developed utilizing superior grade raw material, sourced from reliable vendors of the market.
In addition to this, the offered range of infrared lamps is available in number of customized designs, shapes and allied specifications in accordance with the diverse demands of clients. · Better and quick healing. UK, USA & Asia: 5 - 10 days (Subject to Receiver Availability).
Europe: 7 - 12 days. Rest of World: 15 - 30 days. In our experience these inspections are quick and easy, but in some cases it may cause a delay in your package arriving. Usually these delays will be shown in your tracking information. If an item arrives damaged, it must be reported to us immediately along with damage package images, so that we can correct the situation.
No claims will be accepted if reported after 7 days from the date package received. Items that have been installed or altered are non-returnable. Thank you for taking the time to view and consider our listing. The product images shown are for illustration purposes only and may not be an exact representation of the product.
Electronic Digital Micrometer 0-25mm/0-1 Vernier Scale AjantaExports. Humidifier 5 liter capacity in Stainless Steel with Wheel Lab Equipment. Hypsometer Regnaults Double Walled Copper Cylinder 340 X 60 Mm AjantaExports. Freezing Microtome Cryostat Microtome Tissue Sectioning Lab Equipment.
Flocculation Jar Test Apparatus 4 Spindle Medical and Lab Equipment AjantaExport. Human Kidney with Adrenal Gland Anatomical Human Model AjantaExports. Human Heart Fiber Model Anatomy Model Cardiac Model AjantaExports. Gauging Trowel Masonry Tool Plastering Flooring AjantaExports. Frame Heater Heating System Temperature Control Heat Distribution AjantaExports.
Flakiness gauge Aggregate testing Particle shape analysis AjantaExports. FET Characteristics Apparatus With Regulated AjantaExports.
Electronic pocket scale 200g capacity Silver color AjantaExports. ENT Endoscopic Unit With Camera Coupler Screen & 5W Led Light Source. Elongation Gauge Tensile test Material testing AjantaExports.
Digital Rota Rod Apparatus 4 Compartment Lab Equipment AjantaExports. Inclined microscope Medical microscope Laboratory equipment AjantaExports.
Geometry Box Teacher Geometry Set with Heavy Quality Measuring Parts. Hygrometer Wet and dry bulb Psychrometer Weather instrument AjantaExports. Digital Muffle furnace Lab Furnaces Heating equipment AjantaExports.
Gas turbine Turbojet engine Engine model Jet engine model AjantaExports. Four stroke diesel Engine Cut Section Model Lab Equipment AjantaExports.
Illuminated Purity Work board Lighted surface Inspection board AjantaExports. Gerber Electric Centrifuge Machine Motorized 8 Test AjantaExports. All-Glass Electrically Heated Distillation Apparatus AjantaExports.

---